5 Powerful Pieces of Advice from Women in Business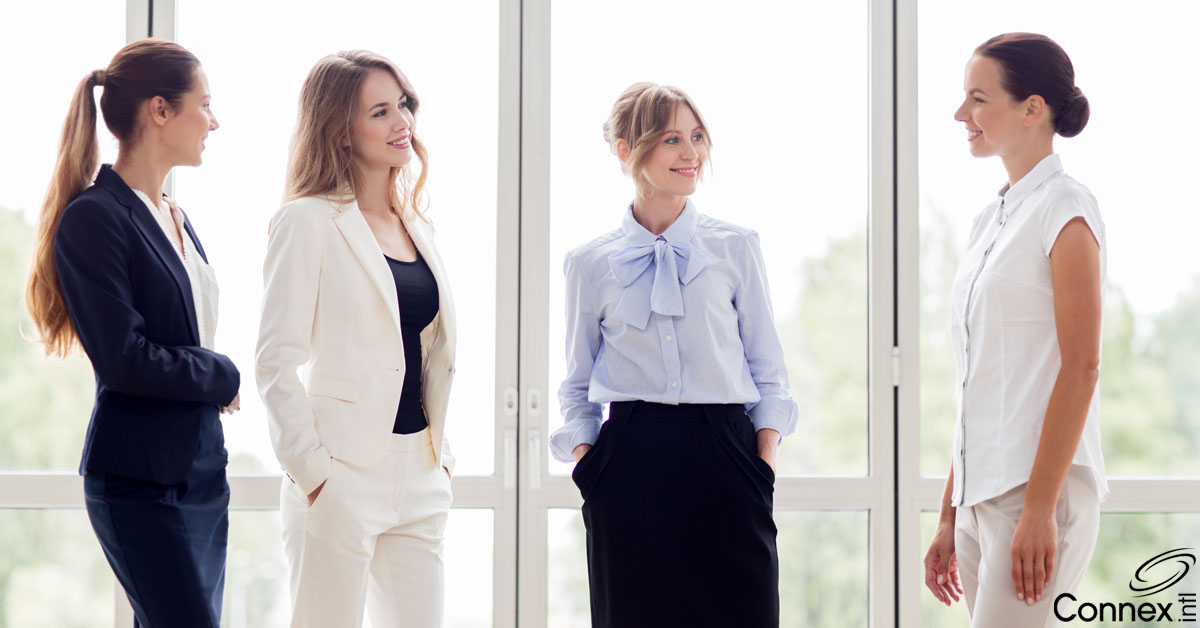 5 Powerful Pieces of Advice
from Women in Business
Are you on the lookout for some inspiration? Are you eager to hear some encouraging words and advice that will prompt you to get up, grab the reins, and take charge in your life and your career? As a woman-owned business, here at Connex Intl, we believe there's no better source for that very motivation than some of the most powerful and influential women in the business world. Learn from these impactful pieces of advice they have to offer, and then prepare to follow in their footsteps. Here are five pieces of advice from women in business.
1. Sara Blakely: "Stop Fearing Failure" Recharge and Reflect
Have you ever held yourself back from something awesome, simply because you were worried it wouldn't pan out the way you wanted it to? Guilty as charged—we all have. This is what makes the lesson Sara Blakely, Former CEO of Spanx, learned early in her childhood so important. Each week, her father would sit down with her at the kitchen table and ask her what she failed at that week—not what she succeeded at.
When she told him? He congratulated her with a hearty high-five.
"I didn't realize at the time how much this advice would define not only my future, but my definition of failure," Blakely said in an interview for Fortune, "I have realized as an entrepreneur that so many people don't pursue their idea because they were scared or afraid of what could happen. My dad taught me that failing simply just leads you to the next great thing."
How to Implement It: Take a cue from Blakely and flip the script on failure. Rather than considering it a total flop, think of it as a step in the right direction. Reflect on what you learned, and then move on. It's a far more productive way to deal with disappointments—and, even better, it's an attitude you can foster throughout your entire office.
2. Rosalind Brewer: "Don't Neglect the Importance of Relationships"
This piece of advice isn't something that Rosalind Brewer, Starbucks' first female, and African-American COO, explicitly said. But, it's something that she undoubtedly exemplified throughout her career.
Brewer was working as CEO of Sam's Club (which is owned by Walmart), when Starbucks CEO, Howard Schultz, came to Walmart's headquarters for a panel discussion with Walmart CEO, Doug McMillon. When McMillion needed to cancel, Brewer stepped in for that discussion and forged a relationship with Schultz—which she maintained throughout the rest of her career at Sam's Club. After stepping down from her position at Sam's Club, she joined the board of Starbucks and then eventually as Starbucks' COO. Now, Brewer serves as the CEO of Walgreens Boots Alliance.
Put simply, Brewer is living proof that maintaining beneficial business relationships will take you far in your professional life.
How to Implement It: It's easy to lose track of those important bonds when you're caught up in the hustle and bustle of your workweek. Make sure to set aside some time (even if it's just an hour) each week that you can dedicate to sending notes, writing emails, or even grabbing coffee with a contact. That little bit of time can go a long way in terms of strengthening and maintaining your relationships.
3. Sheryl Sandberg: "Be More Open to Risks"
When it comes to encouraging pieces of advice from women in business, Sheryl Sandberg is usually near the top of every single list. As a former Google executive, the former COO of Meta Platforms and the author of the incredibly popular book Lean In: Women, Work, and the Will to Lead, she undeniably has plenty of advice and wisdom.
For that reason, it's tough to pick just one piece of Sandberg's insights to share. But, if we had to settle on a favorite, it would be this: Open yourself up to taking more risks. Sandberg says that it's easy to think you're not qualified or ready to push yourself out of your comfort zone or take on a project that seems intimidating. In those moments, sometimes you just need to take the leap anyway.
"At a certain point, it's your ability to learn quickly and contribute quickly that matters," Sandberg writes in Lean In, "Women need to shift from thinking 'I'm not ready to do that' to thinking 'I want to do that—and I'll learn by doing it.'"
How to Implement It: Go ahead and raise your hand to volunteer for that work project that seems like it's out of your wheelhouse or pitch that new initiative to your boss. Start small, and soon stepping away from your safety net won't seem so scary.
4. Katie Beauchamp: "Always Seek Advice"
At certain points, it seems like it's easier to stop seeking the thoughts or opinions of others. You become overwhelmed, and you don't need somebody else's two cents to cloud your own judgment. It's natural. But, Birchbox's CEO, Katie Beauchamp, asserts that you should always seek the advice of others—even if you don't necessarily implement it.
"I've since realized that it's not about bringing someone in to actually get an answer," says Beauchamp in an interview for The Muse, "This is about gathering as much perspective as possible, and it should never stop. It is about learning all the time; it is the only way to speed up the journey of developing an even deeper sense of and instinct for what you are doing."
So, as much as you might worry about information overload, don't neglect to consider the opinions of others. Even if you don't follow them, they'll help you shape a stronger direction for yourself.
How to Implement It: This year, work on forming a core group that you can go to for advice. From mentors and friends to bosses and co-workers, develop a network of people that you trust and can approach for an outside perspective when you find yourself stuck.
5. Mary Barra: "Actions Speak Louder Than Words"
As the CEO of General Motors, Mary Barra is the first female to hold that title at any of the world's major automakers. Needless to say, she knows a thing or two about making waves and forging a path for herself. One of the ways she did that? By recognizing how she acted always carried more weight than her words.
"If your values are little more than words on a page, they won't mean much to you or the people on your team. But when you do what you say you are going to do—in both results and behaviors—that's when you begin to build trust and earn respect," Barra says in an interview with Glassdoor.
How to Implement It: What values are important to you? Write those down and place them somewhere prominent to serve as a constant physical reminder. When faced with a choice or interaction, make your best effort to act in accordance with those values—even when the going gets tough. Remember, your actions will always speak louder than your words.
Feeling inspired? Take the wisdom, insights, and lessons from these women to heart, put them to use in your own life and career, and prepare to tackle each new challenge with poise and confidence. If you have more pieces of advice from women in business, send us a message on LinkedIn or Twitter!