Our experience grows every second...
C
hoosing a
conferencing
and collaboration partner you can trust is no easy feat. Having a unified communications plan is key. You need someone you can rely on. A company that isn't going to let you down, especially when it's your reputation on the line. Fortunately, your search ends here. At
Connex Intl
, we offer exactly what you are looking for: effective, scalable and
reliable virtual meeting solutions
built to suit you.
Our team of hardworking professionals is ready to help you with all your business meeting needs. We know that there's nothing more important for you than effective communication. And there's nothing we love more than helping our clients connect, communicate and collaborate.
It's our business to provide tools to advance your ideas and strategies, grow your business and make a good impression on everyone you deal with – wherever they are. We always do this with positive attitudes, smiles on our faces and a strong sense of integrity. You know you'll be in good hands the moment you say go.
We've been around a long time, but that doesn't mean we're old hat
Together our team has over three centuries of combined experience in this space. This experience plus our ability to stay on top of new technologies and trends, means that we're constantly developing the best solutions to offer our clients so that we – and you – are always ahead of the game.
Creativity, ingenuity and ability are always at the forefront of our minds, ensuring that we are constantly developing innovative solutions that deliver the best results every time.
We like to think of ourselves as an extension of your team. We'll be there to support you at every step of the way, offering answers to your questions, solutions to your problems and big ideas that change the way you do business. We are committed to every client and every project, and take our responsibilities very seriously.
Connecting is at the heart of what we do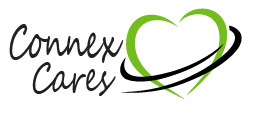 And, because connecting is so important to us we created ConnexCares. We believe that our ability to bring people together, and our responsibility to do it well, doesn't stop at our front door. Call it karma, values or whatever you'd like—we realize that we must also honor and respect our ties to the communities where we work and live. For us, giving back and connecting people at the community level is a natural extension of what we do.
That's why, each year, we support 501(c)(3) not-for-profit organizations that have touched the lives of our clients, team, family and friends.
Donating our time, talents and financial support to the issues that are important to us not only strengthens our connections to the world around us—it constantly reminds us of how even the smallest act can make the most profound difference.